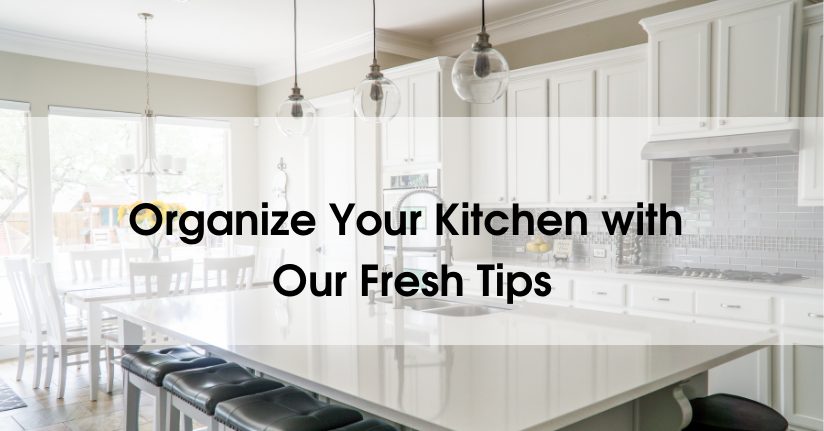 Organize Your Kitchen With These Fresh Tips
This blog topic – Organize Your Kitchen With Our Fresh Tips, is one that Anna and I have been talking about doing for a long time, finally, it's here! Secret Ingredient Personal Chef Services and Your Organizing Consultants have collaborated to come up with some great tips to get you eager to start spring cleaning your kitchen.
Spring is a week away and this year more than ever, has us all thinking about new beginnings. We are beginning to see a light at the end of the tunnel and better days ahead. Though many of us spent a lot of time with projects and decluttering this past year, it is always good to refresh each spring.
Start with these popular zones; prep, cooking, and baking.
Keep your cooking tools by your stove. This makes them easy to grab when you are
cooking.
Prep tools are best located in the area where you do your cutting, chopping, measuring and mixing, usually near your sink. This is the ideal place to keep things like mixing bowls and strainers as well.
Dividers are a must to help the organizing process further and keep like items together. A couple of our favorite places to shop are The Container Store and Target. We love Rev-A-Shelf products to make more permanent modifications to cabinets.
I am a real fan of not buying every gadget out there, most items can serve multiple purposes.
Don't create a system you can't maintain. Home Edit and other popular organizers advertise systems that may seem
appealing, but remember, they work for celebs who have a staff to keep these systems in place.
Be realistic about your needs, what's most important to you.
Organize Your Kitchen – Prep Space
It's important to have plenty of counter space in your prep area.
It is helpful to use the kitchen tools you use to prep close to your prep area (knives, utensils, spices, pot holder, bowls, measuring tools).
Keep prep space clear so you are not having to clean up before you even start cooking.
One thing that helps to keep counters/prep space clean is keeping appliances put away unless you use them frequently.
Helpful Tips For Organizing Your Spice Cabinet
We like a spice drawer better than a pull out cabinet. You can see everything much better with a drawer insert or stand them in a deeper drawer and label the lids. Consider converting a drawer to spice storage, if possible.
If you have a small drawer keep the basics there and store the rest in a cabinet or pantry.
When it comes to kitchen gadgets we turned to Chris Welsh from Secret Ingredient for items she can't live without. Remember to get rid of kitchen items you never use like that old apple corer. Instead of tossing these items that might not be useful to you, please donate them instead.
Must Have Kitchen Items
spatulas (rubber for baking and metal for meats and veggies)
tongs (small, medium and large)
whisk (small medium and large)
stirring spoons in various sizes
slotted spoon
soup ladle
potato masher
microplane
metal measuring cups for dry ingredients
pyrex measuring cups for wet ingredients
vegetable peeler and can opener
Your Kitchen Is Organized Now Let's Cook
Even if you love to cook, I think we can all agree that this past year we have all had to spend too much time in the kitchen. Hopefully, these helpful tips will help you get organized again and look forward to cooking up your next meal.
Chris Welsh loves to use fresh spring ingredients, one of her favorite spring dishes is Seared Scallops with Pea Puree.
As well as refreshing your kitchen, Chris likes to refresh her cooking in the spring by using clean, healthy ingredients to prepare meals for spring and summer. This Pasta Primavera With Asparagus and Peas uses some the earliest vegetables available in spring and is a true celebration of the season.
If our spring fresh tips to organize your kitchen and spring recipes don't have you inspired, Your Organizing Consultants and Secret Ingredient are both here to help.
Can you organize your home by yourself? Yes, of course. But working with a Certified Professional Organizer ® gets your job done faster and with less stress. Plus, we can visualize a space differently since we don't live there every day. We are busy moms and wives too. We get it. To save time, we utilize our tested systems and favorite products. Please contact Your Organizing Consultants to schedule your free consultation today. 
We also know that meal preparation can be a nuisance. Secret Ingredient prepares fresh, home-cooked meals in your kitchen, where we take the stress out of dinner, save you time and help you avoid ordering unhealthy take-out. Our service includes personalized menu planning, grocery shopping, full meal preparation, and packaging, leaving you healthy meals in your fridge or freezer with easy-to-follow heating and serving instructions.  Contact Secret Ingredient today to learn how our personalized, healthy, home-cooked meals can help to simplify your life.
*
*This post contains one or more affiliate links. What does that mean? If you click on any of those links and make a purchase, I will get a small commission that will likely feed my growing love for coffee! You should also know that I recommend products that I believe in or have used whether or not I get paid.