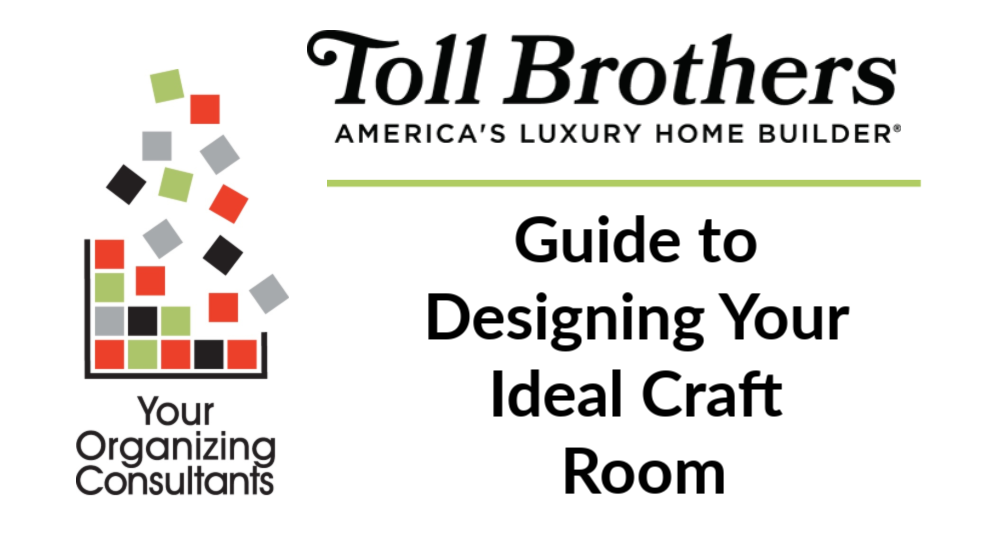 Guide to Designing Your Ideal Craft Room
Anna Sicalides contributed to the following article which was originally published on Toll Brothers blog: Build Beautiful, March 11th 2019.
Every crafter dreams of an organized, beautiful room dedicated to fulfilling artistic passions. To create a comfortable and clutter-free craft room, begin by considering your functional needs and storage options, then you can start to develop organizing strategies. We've compiled a comprehensive list of ideas, tips and considerations for designing your ideal craft room.
Function
Start by identifying the functions you want to accommodate. Will the room be a dedicated space for crafting, or will it double as an office or guest room? Some crafts, like knitting, can go where you do and may just require storage for tools and supplies. Other crafts benefit from large spaces to spread out, making it easier to stay organized and quickly clean up. Consider these pointers for designing a functional crafting space:
Do you prefer to sit or stand when creating? If you sit in a traditional chair, a wheeled office chair, or low stool, you'll want a standard-height table, either built-in or free-standing. You may prefer higher stools if you work at an easel or with a tailor's dress form.
If you tend to sit and stand, a hybrid arrangement like an adjustable standing desk could accommodate your needs. A rubber mat to help ease pressure on your joints is a great addition if you're on your feet.
Do you have access to natural light, or will you need LED light? Various layers of lighting can be useful, such as ceiling-level track lights or hanging pendant lights to illuminate large areas, and desk lamps or under-cabinet lighting for spotlighting fine detail work.
Flooring is a practical concern. Carpet can be challenging if you use paints or work with pins or small beads, so choose a flooring option that is easy to clean.
Do you need a laptop or desktop computer in your craft room for design or research? Earmark space at the right typing height.
Install electrical outlets and light switches under upper cabinets or recessed into worktops to ease your access.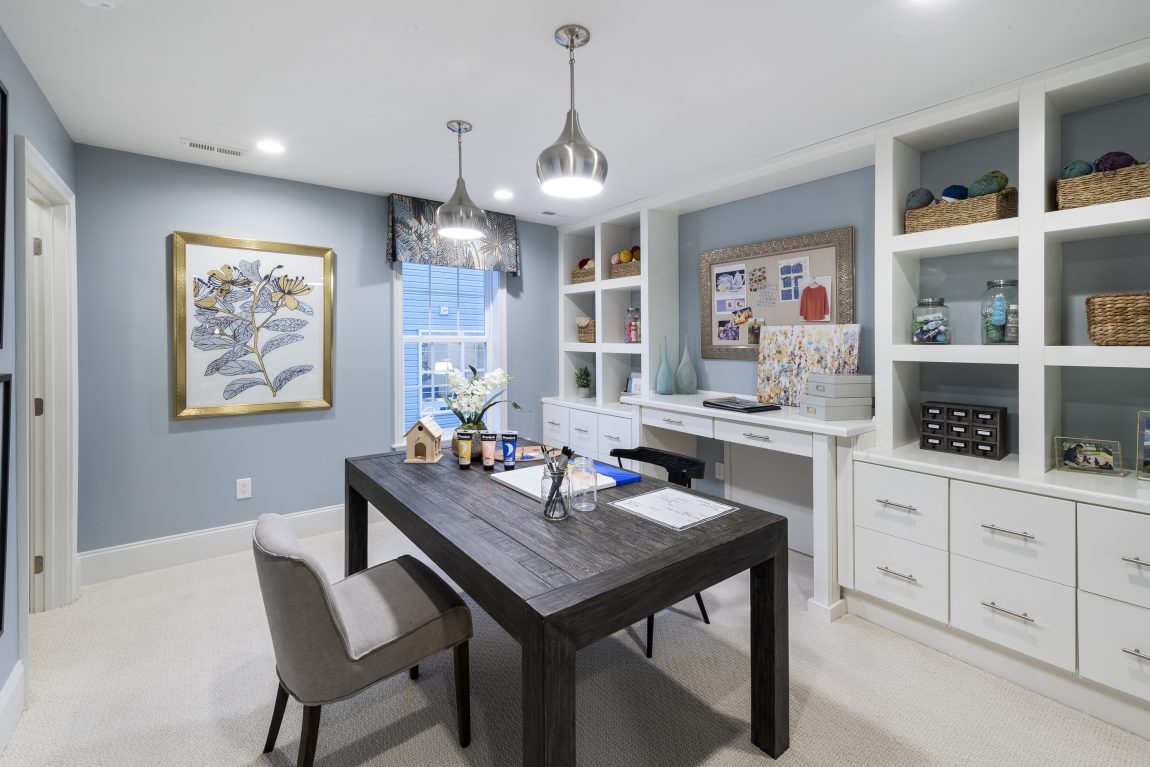 Storage
Balance your style preferences with your storage needs. If you're visually inclined, you may prefer clear containers, but if your space is in a highly-trafficked area of your home, you may want everything to be tucked away behind cabinet doors or in labeled boxes. These smart storage considerations will help you find a place for everything craft related:
Gather all your materials and create zones for each craft or hobby. For example, if you sew, keep your thread, pins, bobbins, chalk, tape measures, and fabric together and comfortably accessible.
Selecting containers? It's what's on the inside that counts. If you make jewelry, you'll want many small drawers for supplies and shallow drawers for tools. Baskets are great for storing fabric, but small items might fall to the bottom.
Consider your personal tastes, too. Do you like open bins better than tubs? Would you be more enthusiastic about clear glass jars or small metal buckets?
Where will it all go? Open shelves or clear cabinet doors with glass inserts keep items visible, while opaque cabinets render a cleaner look. A pegboard with hooks, a slat wall, or an attractive metal wall grid will help you make better use of vertical space.
For crafters who like to stay mobile, rolling carts keep supplies close at hand. Just remember that you'll need a space to park it when it's not in use.
What about storage for instructions, patterns, or craft-related reading material? A bookshelf with magazine holders keeps both books and loose papers upright, but if you need a system to categorize papers, file drawers might be in order.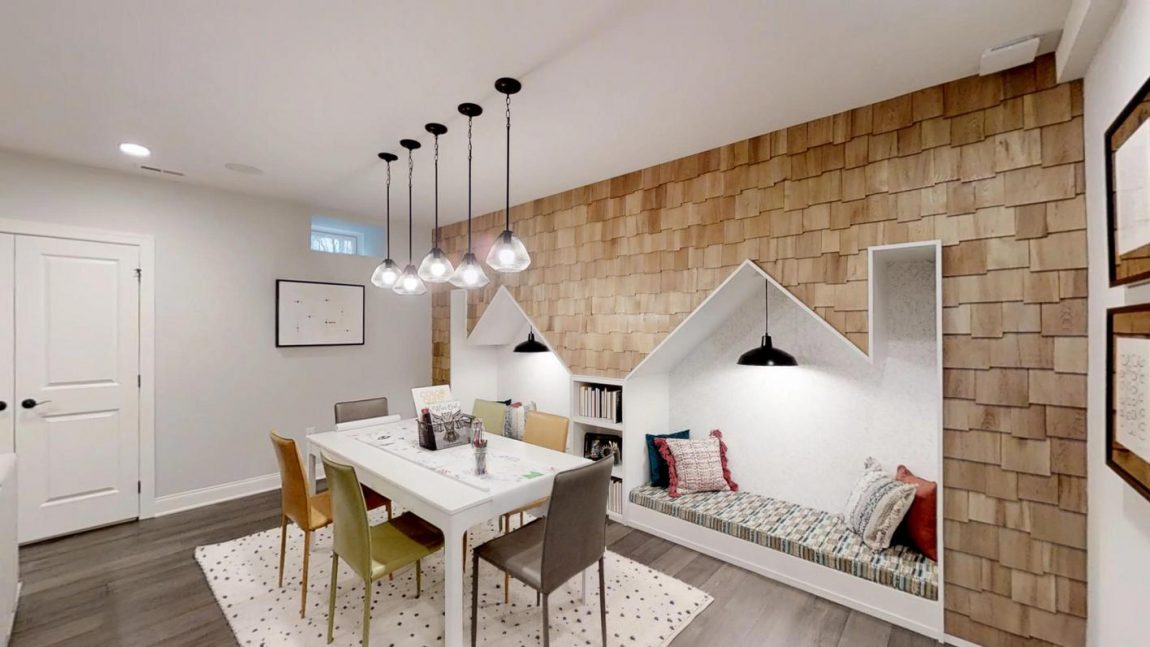 Enclave at Princeton Junction, New Jersey
Tips
When it comes to creating your dream craft room, these considerations are universally helpful, no matter your artistic interest or personal style:
Keep the tools you use most often visible, on shelves or in vertical storage, and close at hand. Store what you use infrequently behind closed cabinet doors and farther from your workspace.
Label where things belong to make everything easier to put away.
Organize your sources of inspiration with an idea board that fits your style, whether it's a framed or fabric corkboard or an erasable whiteboard or magnetic board.
When you aren't crafting, contain your projects so you can maintain the beautiful space you've created. Put in-progress pieces in a "current project" bin or basket for speedy cleanup.
Be realistic about what crafts you really love. Once you move on from one craft and put your energy into something different, consider donating the supplies that you will no longer use.
Anna Sicalides contributed to this story. She is a Certified Professional Organizer (CPO®) and the president of Your Organizing Consultants on the Philadelphia Main Line, where she lives with her husband, Peter. Anna loves helping her clients live their best lives.
For more organizing inspiration, visit Toll Brothers on Pinterest.