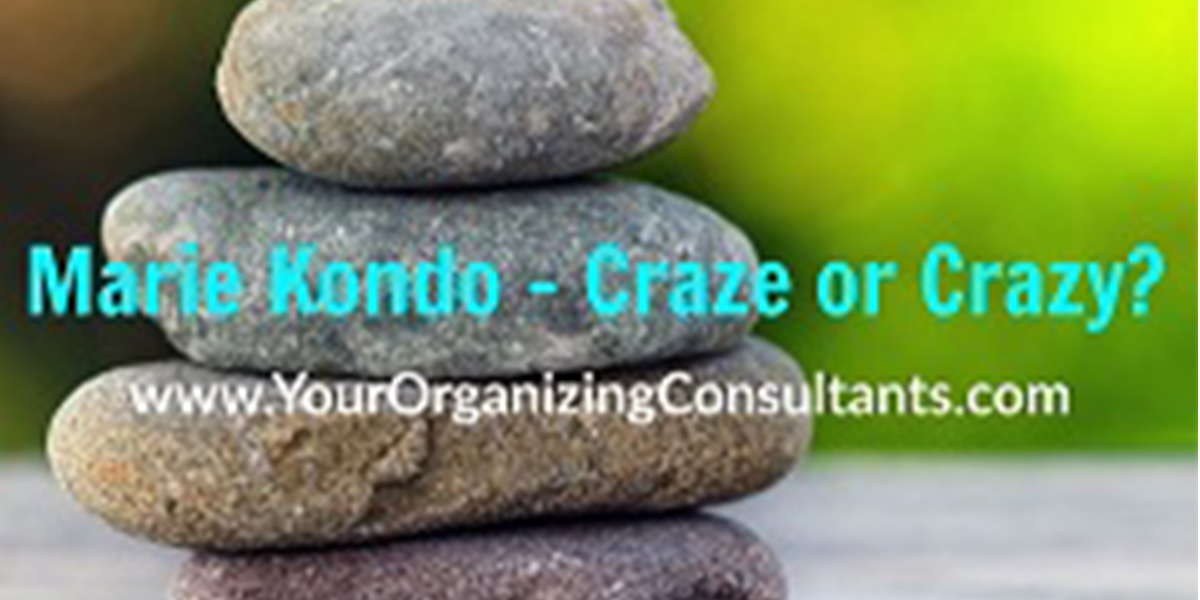 Marie Kondo Craze or Crazy?
Last fall, when putting my blogging calendar together, I thought about Marie Kondo and her book "The Life-Changing Art of Tidying Up". It seemed like a good topic at the time. Since then, she has published a second book "Spark Joy: An Illustrated Master Class on the Art of Organizing and Tidying Up". Her methods have become the home craze of the day, and she is apparently going to have a TV series.
One thing we know for sure is that she has a great marketing machine behind her. What do I think of all of this hoopla?
Often, I'm asked what I think of books like this… so here are my thoughts…
The first book was a challenge for me… there were instructions on her specific way of folding clothes, but no sketches or photos. I am sorry, but I, like many people, need a visual for this specific process. The word "tidying" was annoying to me because tidying and organization are very different things, but that is just semantics.
Recently, I was with three of the top organizers on the east coast, and one of them asked: "what did you get out of the book?" Everyone had the same response "does it spark joy?" Well, I can tell you that the knives in my kitchen do not "spark joy" but I cannot get rid of them. The family memorabilia I've collected over the years in my attic does not "spark joy," I cannot get rid of it. None of this was addressed in the book; partially because the book seemed written for people who didn't have organizational needs other than clothes, books, and paper.
The methodology is not relevant to the general public with organizing challenges. Everyone has their own situation, and getting organized is not a one size fits all process. For some people just getting stuff off the floor is huge, while others prefer pencils lined up perfectly.
Organizing is not a one time thing. Once you have a system, you need to refine it. You need to maintain it. As life changes, so does the amount and type of stuff that we have, adjustments need to be made regularly.
Organizing by category can be super difficult…
When I go to a client's home, we start in one room because that space is the biggest problem. If we are working in a den, we aren't going to collect all of the books in the house, because we would have books all over the place. We have to focus on the one space. These kinds of sessions are not done one appointment (my clients have a lot of books). Every bedroom has books in it. We don't want to include kids books in the big picture, it's not how our client's brains work. We will organize the books in the den, usually by category or author. As we organize other parts of the house we will review the books and collect what belongs in the den and move it there. [You can read a detailed article about our media organizing process here].
I can't empty my handbag every day. Granted it needs to be cleaned out occasionally, but daily? Overkill.
Another thing I noticed in the book is that she frequently talks to inanimate objects. Which is weird! I can see that in some extreme situations that has value, but, the average person can let go of their stuff without thanking and saying goodbye to everything. Memorabilia, sure, maybe. Childhood items, ok, but not old shoes!
What I got out of book is "does it spark joy?" I like that. I use it with my clients. It is a great way to look at our things. We all want to live joyous lives.