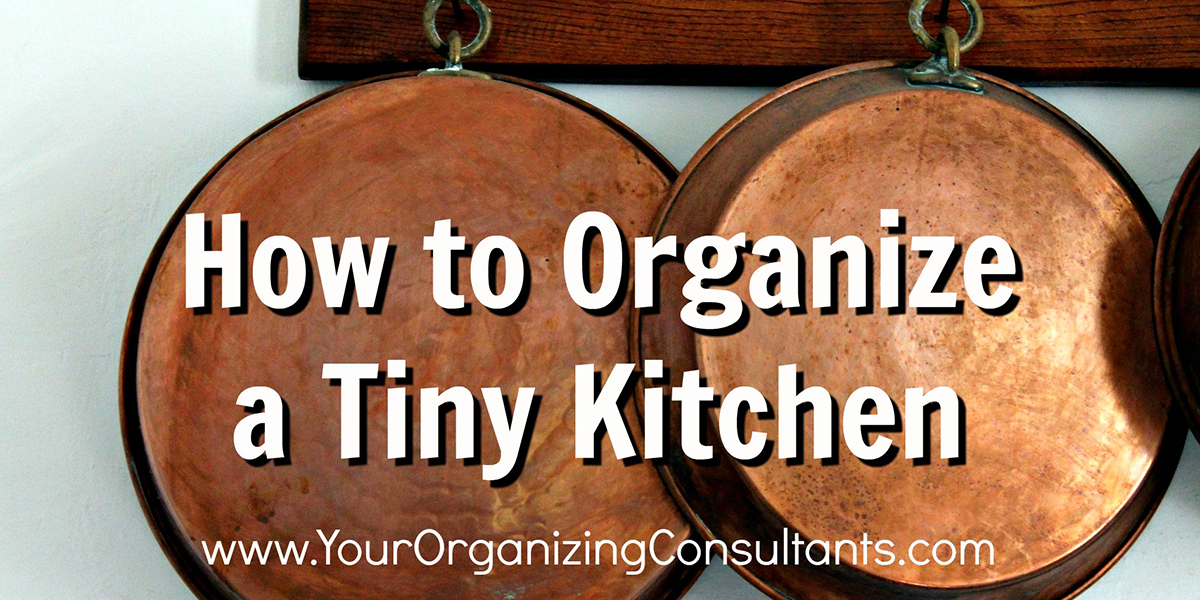 How to Organize a Tiny Kitchen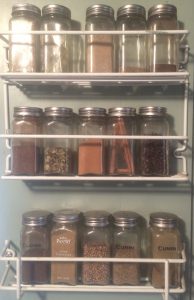 In case you don't know I live in an 18th Century home. The kitchen was originally in my dining room with the walk in fireplace where all cooking and family gathering occurred. Don't ask me how they did it, but these are the things I assume:
all of their pots and pans were in the fireplace at the same time
the cooking utensils were hung next to the fireplace
the dishes and glassware were stored on the mantle (all 4″ of depth that it is)…this was probably it for them
At some point in the late 19th Century, women revolted and kitchens became fashionable as a separate room in the home. So one one was added to my house. It is tiny…which has some real positives…like it needs to be organized, and I need to keep things at a minimum. Even for me (being an organizer) it has caused me some challenges. I need to make real decisions about what stays, where it goes and where it is stored.
In the meantime I have four sets of dishes, 8 pitchers, 3 shelves worth of mugs and glasses, 12 cookbooks, numerous plug in items coffee maker, juicer, VitaMix, immersion blender, CuisinArt…to name a few a lot of serving pieces and I must not forget my milk frother!
If you want to know how to organize a tiny kitchen, this is how I manage:
We have 2 pots and 2 pans that we use all of the time. The roasting pan, lobster pot and crock pot live in the basement.
Dishes are stacked and stacked and stacked!
I have to keep my cooking utensils in a crock on the windowsill along with the cookbooks
I keep the top shelf of my pantry for vases and the top shelf of my bar for pitchers (really, I don't need all of these, but as long as I have room, I will keep them, one day at least 1/2 will go)
I only keep the Vita-Mix, juicer, Keurig (which is soon to be permanently replaced by a French press; better coffee, less space for both the press and the coffee)
If there isn't a new kitchen in your future or you have a newer that isn't perfect, there are many ways that you can improve what you have.
Some of my favorite organizational tools are:
Bamboo Cutlery Tray– I love the bamboo because they expand, are less noisy (absorb the sound of cutlery being banged around) and easy to clean
Bamboo Drawer Organization Boxes– These are great for any drawer. You can adjust the size depending on what you need.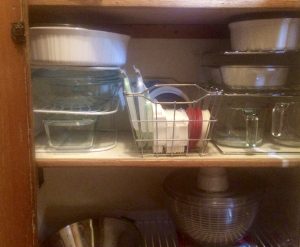 Horizontal Rack– These are great for baking sheets, trays and lids. It keeps them contained!
4 Tier Pan Organizer– If you have high quality pans a good storage solution protects them from getting scratched
Corner Rack– I have two of these in my pantry for Pyrex dishes. Stacking them by shape keeps them contained.
Wide Shelf– Good for stacking larger items together and using all of the cabinet space
Wrap Rack– If you don't have a lot of drawer space you can hang on a wall or the back of cabinet
Spice Rack– Love these on my cabinet door
Spice Jars- I love that they are clear. You can refill them in the bulk spice aisle at Whole Foods or other markets
Lazy Susans Love, love, love lazy susans! You can put them in your refrigerator (for condiments), cabinets (for vitamins or spices), bathrooms (personal products) or under the sink in the kitchen… no more rummaging around for things!
Don't forget to check out some of my other favorite things in Your Organizing Consultants Store!