I had a client who lived in a very old farm house, built in 1720. The house had at least four additions since it was originally built. My client's family needed a family room space and an updated master bedroom. The addition they built included a huge family room, tiny office (for my client to work in) on the first floor; an open space above the family room on the second floor that would be her closet and an expanded master bath to meet today's lifestyle needs.
We had two missions: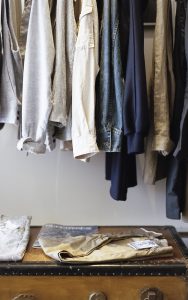 maximize her office space
maximize her closet storage
In the office, we added bookcases to three of the four walls, and over the doorway. The client could keep her reading materials there and have a place to bring her laptop for quiet time. By adding bookcases, we allowed for tons of extra storage space, but also using all of the vertical space in the room.
At the time my client had a closet on the 3rd floor of the house. Which meant that she had to go upstairs to another floor to get dressed. We decided to keep the 3rd floor closet for clothing that she didn't wear everyday, things like: nice dresses, dressy skirts, tops and speciality shoes. We used the new closet off the master bath for her everyday clothing: jeans, khakis, workout stuff, you know what moms wear!
To maximize her "everyday" closet, one wall was 16′. and the space had roof lines and a window, which was important to consider how we would use the space. We took the long wall and made one half shelves for shoes, and the other half of the wall we stacked cubes. The client could store all of her jeans, tee shirts and workout stuff in the cubby space, making it accessible and easy to see. She is a visual client so seeing everything was really important to her. It was amazing.
We added hanging bars for all longer items, such as dresses, skirts and pants; a set of drawers for lingerie, socks and personal garments; and shelving for handbags, sunglasses and other small accessories.
It turned out so well. The client was able to see everything she had, easily find what she needed and it was all coherent! Another success for Your Organizing Consultants.