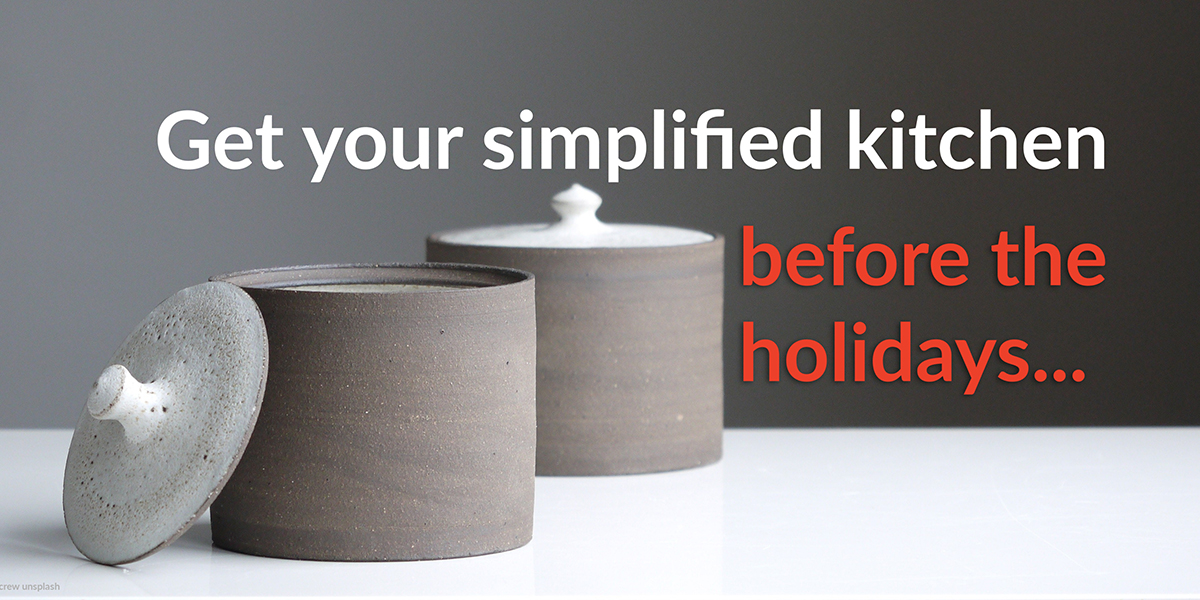 A simplified kitchen space before the holidays
The holidays are coming, which usually means there is little time to keep up with what's happening in your kitchen. Before things get too crazy, think about how nice it would be to have a simplified kitchen space before the holidays… Let us help you get your kitchen in tip-top shape…
First: You need a plan
I like to plot out my entire kitchen space, designating where each zone will be. Some of the more popular kitchen zones are:
A prep area is the most used zone in a kitchen. It should be close to the sink and your main working area. This is where we usually put items like choppers, peelers, knives, measuring cups and spoons. You don't want to be chopping veggies, and then have to walk across the kitchen to put them in the pan.
Cooking zones are by the stove, where we keep tools that you use when you are at the stove like spatulas and large spoons and oven mitts, think easy to grab while cooking.
The baking zone usually includes all your baking dry goods in one place; along with mixers, baking sheets and so on. Consider how much of a work surface you will need and if your zone will accommodate your needs.
Dish storage should be by your stove or oven if you plate meals from the stove or oven or near the table if you set the table and serve family style. Consider where the dishwasher location is for easy unloading. Glassware should be near your drinks (sink, refrigerator or drink drawer).
Coffee and tea zones are important too. Sometimes it's a cabinet, sometimes it's a drawer. This is where we put mugs, coffee, tea, sweeteners, filters. Placement is usually near the sink or water source.
If your zones are mapped out, it will make the space more functional, but it's easier to put things away and of course, find what you need. Having a good kitchen layout can be one of the most essential steps in setting up your space.
Second: Go a little deeper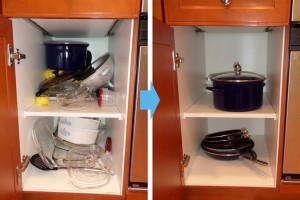 Once you have your space planned, and you start getting into the nitty-gritty of the kitchen, it's good to go through one drawer or cabinet at a time. To do this deeper dig, try the following:
Pull everything out of the drawer or cabinet. Make sure you have all the related items in one place. Ask yourself: "How many

[fill in the blank]

does one need?" At most, a kitchen might need two. For example, in our kitchen, we have two graters! Huh? Yes, one is better for slicing carrots, while the other one is easier to hold. Another thing to look at is all of the specialty items we have, do you really need a strawberry huller or can you use your vegetable peeler?
Once you've pulled everything out, purged what you don't need, start putting things back into the drawer or cabinet.
Helpful spacial tips: Most used items should be at the front, or on the top, while only frequently used items should be in the back or up high.
Label any baskets or bins (if you think you need it). This can be helpful for busy families, or those households that share the kitchen management, ie., kids unloading and putting dishes away will always know where things belong if it's labeled. Use a labeler or fun reusable labels.
You'll really start to see the magic of an organized kitchen when you do this. It's unbelievable how many duplicates we accumulate over the years, or worse, appliances that we never use.
Third: Automate or simplify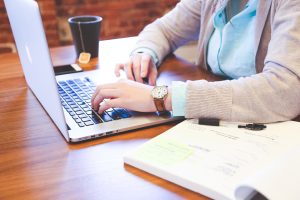 Anytime you can automate or simplify things that you do (on a regular frequency) in the kitchen, will always make life easier. If you are running around with kids all day, work full time, or are the CEO of your household… you know how much work it is to keep the kitchen running like a well-oiled machine. Some simple steps to keep things moving forward just might be the trick.
Make a list. Sometimes having a place where you can add to the grocery list will reduce the unexpected "we're out of eggs" problem when you right in the middle of cooking. It can be a preprinted list that hangs in the kitchen or maybe use an app that everyone can access and add items to it. Either way, keeping a running list will always save you money and simplify your grocery prep time.
Plan meals ahead of time. This will without a doubt let you breeze through your week with little frustration at 5 pm. By taking some time once a week to plan out meals. You can have Blue Apron, takeout or leftovers as part of your plan too. Simplify dinnertime, every time.
Grocery delivery services or CSAs (community supported agriculture), can take away the painstaking process of getting food into the kitchen. Although they come at an extra cost, it might be more cost effective for you. Studies have shown that when we go to the store without a list, we spend more money. Some local grocery stores offer delivery, but Fresh Direct is a reliable and available service too, not to mention you can automate your order. CSAs in our area can be found here.
No matter if you like to cook or hate it; by taking the time to get your kitchen in order life will always be easier, you will enjoy being in your organized space, and maybe even have more time to make holiday memories with your loved ones.