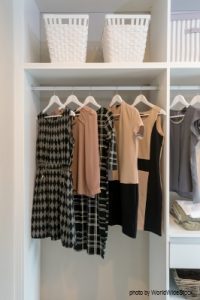 Disorganized and jam packed closets are super frustrating! You can't find anything, clothes have fallen off the hangers, they are getting crushed, ruined and who knows what else…Can I tell you about stuff I have found in closets? No, I won't..
1 Take everything out.
A great job requires you to remove everything from your closet. I have a caveat for that… If your closet is huge, or you only have a little time to work on it, you may want to rethink this or deal with one category at a time starting with the floor.
Only pull everything out if you can finish the project.
2 Make it Fun!
Start with fun music and a pitcher of fruit water
Turn on some music… Make it fun!
3 Look at each item and ask yourself:
Do I still like it?
Have I worn it in the last twelve months?
Will I really ever wear it again?
If I saw it in a store today, would I buy it?
Is it in good shape? No holes, pulls, broken zipper, not stretched out…
Does it fit well and look good on me?


Anything that you answered "No" to means it should go.
4 Take what is left and hang it back in your closet.  
How you organize what you put back is up to you. Some clients organize by color, by season and/or by category.
I like to use thin hangers with a bar for jackets, dresses, tops and pants/jeans. can also add clips for skirts they come in fun colors! These hangers also come in kids sizes, and you can add shoulder shapers for better jackets.
You can use beautiful wooden hangers too, they look great, however they take up more space. Make sure your hangers have notches which are helpful for hanging dresses and items that are more awkward.
Note: I am not a fan of the hangers that you can hang five pairs of pants, tops or skirts on, they are harder to use and one is more likely to get into bad habits using them- like not hanging things up!
Things that are heavy- especially sweaters should not be hung because they will stretch out.
The Reverse Clothes-Hanger Trick is a popular one to see what it is you are really using.
Now that everything is back in your closet is it crowded? If it is, you can eliminate more…  you don't want to end up in the same situation.
5 Hang and fold your clothes in a way that makes logical sense to you:
seasonal
activity
casual vs work
color
6 Now let's work on the 'reject' pile:
Anything that is stained, torn, well worn, faded, bleached and lingerie can only be donated for the fabric. I know that Goodwill does fabric only donations, but it's always good to check in advance.  Recycled textiles have many uses.
Anything that is new or current fashion (less than 2 years) can be consigned if it is good quality. Let me know if you want ideas of places to sell. I have someone who sells high quality to couture and have resources for all of the in between things tool.
7 Places to look for more space!
Look at your walls- look up, look down- can you add a shelf or cubbies anywhere?
You can use Double Rod Closet Extenders if you have a bar with shorter things on the top- this will help fill the bottom space
Floor- is there room to add a row of shoes or boots
8 You have to have some useful tools when working on a project like this. Some of my favorites:
9 Accessorize!
Make it fun! Paint it bright, hot pink, turquoise or use fun wallpaper, this is a great place for some self-expression!
Decorate it! Use hats, handbags or shoes in a decorative way- it's time for fun!