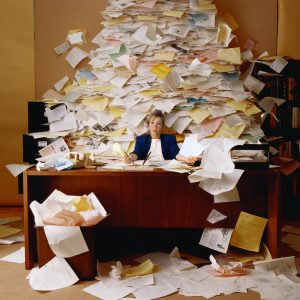 I had a client who lived in a place she hated, had a job she hated and no boyfriend
(which she wanted)
.
She hired me to help declutter for selling her house. I went through every closet, drawer, and piece of paper in her 3 bedroom home. She had clothes and paperwork from the 70's, and a bunch of her deceased mother's belongings (that she didn't need). She apparently wanted them when her mother died, but they didn't fit into her life at all any more.
I filled three (3) small dumpsters, plus made multiple trips to drop off donations. She had terrible credit, and was not paying her bills on time (even though she had the funds to do so).
I also worked with her to manage her incoming mail, paying her bills and getting her to the point where she was able to save over 100K. Her bills are being paid on time, and her credit score is improving. She is able to better managing her expenses.
After all the work we did in her home, she found a job that she wanted. Her house sold before it went on the market. She found a new sunny home, and in the process reconnected with an old friend, she started dating (now together for the last 10 years).
It is not unusual to have clients tell us that we have changed their lives, sometimes it is something small, sometimes it is something small!
If you want results today! Call Now! 484-432-8692!