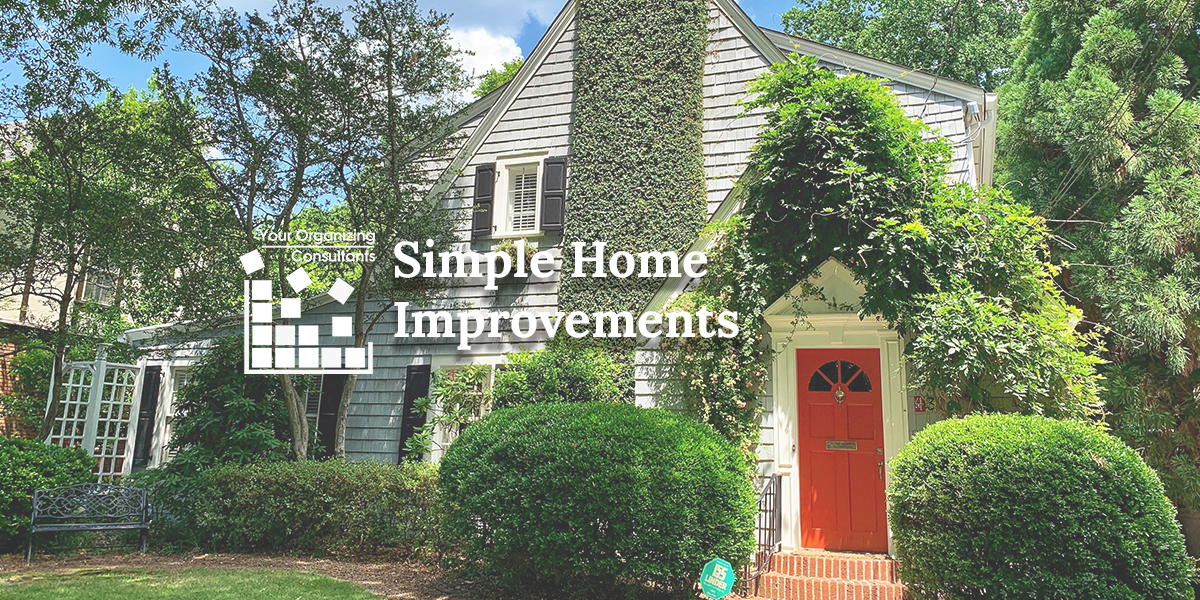 Simple Home Improvements by Redfin
This article was originally published by Redfin on July 6th, 2020 by Lexi Klinkenberg
Keeping up on your home maintenance is an important and crucial part of being a homeowner, especially if you are looking to increase the value of your home. In addition to keeping up on basic maintenance, there are many other projects you can do to help your home potentially sell for more. Whether you live in a city like Atlanta, GA, or a smaller town like Cheney, WA these simple home improvements can increase your home value.
1. Replace the garage door
A new front door or garage door is one of the best returns on investment. A new garage door can increase your home value, as well as improve the appearance of your home. Replacing or having an old garage door fixed is a simple home improvement that can increase your home value substantially.
"Everyone knows that first impressions are important when it comes to a home. Depending on the style, the garage can take up as much as 30% of the front of a home. That's why when replacing an old garage door with a new, upscale garage door has significant impacts on first impressions and can help you sell quickly! In fact, nationally, in 2020 homeowners can expect up to a 94% return on investment for their garage door replacements on average. In some regions, this return on investment surpasses 100%." –Overhead Door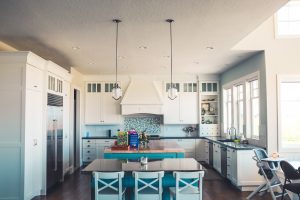 2. Remodel your kitchen and bathroom
The majority of buyers looking for a home that has an updated kitchen and bathrooms. Updating your cabinets and countertops is a great way to spruce up your kitchen, or even give it a whole new look. Additionally, hardwood floors are becoming increasingly popular among homebuyers and can improve the look of your kitchen dramatically. Buyers are also looking for a bathroom with new tiling and modern fixtures. By hiring a team of professionals to do these simple home improvements, and putting some money toward a kitchen and bathroom remodel, you can attract more millennial homebuyers to your property. Not only that, but you'll probably recoup a lot of your costs in the selling price of your home. 
"It is best to hire a company that not only restores your existing washroom, kitchen cabinets, and floors providing a range of products and options but a company that can also remodel according to your taste! As you are doing renovations, decisions may change due to unforeseeable factors, so it is best to work with a company like Bathtub Guru that can do both restoration and remodeling." –Bathtub Guru
"We believe a remodeled shower adds value to your home – which can be as easy as tiling your shower from floor to ceiling (up to 10 ft) for extra bling. If you are looking to add more of a high-end touch, use exotic granite for the countertops. Lastly, always add a shower door to retain heat and apply "red guard" to your mud set throughout the whole shower for extra seal protection that lasts longer." –Arlington Custom Builders
"When trying to find the right home service provider for you, search for local companies. Be wary of companies pouring money into promoted ads on the top of your web searches and those sent via "Directories" promising to connect you with the best local home improvement professionals. These companies will end up having a much higher price. We're a small local company who invest more in our people and processes than our marketing. We can provide a fair price because we aren't spending an arm and a leg on web leads." –Center Point Renovations
4. Replace windows
It is advised that you replace any old single-pane windows and install dual pane windows instead. If you have the extra money for this, they are very attractive and people really find value in them. Replacing windows can give your home a new look, increase natural light, save your money on heating and cooling, and add value to the price of your home if you are considering selling.
"It is incredibly common that homeowners need to repair their windows to satisfy an inspector's report, and they always want to do it as cheaply as possible. I would advise settling on a dollar amount to escrow so the new owners can make the decision on what quality level to pursue. That way they can do the cheap fix or maybe decide to replace all the windows or something in between. After all, the inspector has flagged 1 or more windows, and the reality is that all the windows are on a decreasing timeline to needing future repair or replacement." –Brad Alexander, Zen Windows 
5. A fresh coat of paint
If you decide to freshen up your home with some new paint, opt for neutral colors on walls, trim, and baseboards. Colors such as light grey, cream, and other soft neutrals are preferred. If you have children and their rooms are all shades of bright green, blue, and pink consider painting those to match the rest of your home. This new paint can bring a more simple, sophisticated look to your home. A freshly painted front door and entryway also make a great welcoming statement for the home and can refresh any interior space.
"Paint your house as soon as you want to list it. Painting your house is the fastest and most affordable way to add notable curb appeal to your home. A painted house will start to generate buzz and put a coming soon sign on the front yard. Make sure to choose a company that gives you a value paint job, not just a cheap paint job." –Tulsa Christian Bros Painting
6. Update hardware and fixtures
Just as new fixtures can bring a home into the present, updated hardware can create a new look for a small investment. Updating hardware in your kitchen and bathrooms is a great way to modernize your home. You will want to keep your hardware consistent throughout your home and don't forget to take looks and function into consideration.
"Look up, replacing old recessed fixtures, outdated ceiling fans and chandeliers can instantly refresh any home. Also consider replacing outdated almond-colored switches, outlets, and switch plates. These are great budget-friendly updates and can help you sell your home more quickly." –Melissa Frederiksen, Atmosphere 360 Studio
7. Minimize and declutter
Decluttering, paring down, or purging is the first step to clearing away excess clutter so you can start organizing your space. You must declutter in order to open up room in your existing space. This is so critical if you are wanting your home to look better ion listing photos or sell for more. Decluttering is a simple home improvement that can make your home look much better.
"A clutter-free home will sell more quickly and for more money than one filled to the brim. Decluttering will not only enhance your sale but with less stuff, it will also make it easier to organize and maintain your next home. Whether you are downsizing, upsizing or right-sizing, the selling, and moving incentive works beautifully for getting you to evaluate your belongs and release excess clutter." –Linda Samuels, Oh, So Organized!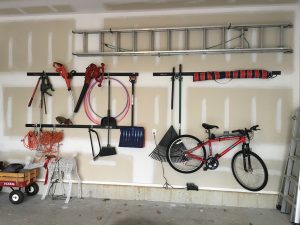 "Installing shelves, hooks, and racks in your garage and basement to store your tools and belongings will make it easy to quickly locate what you are looking for as well as making a huge visual improvement. Using clear bins makes it a snap to find what you are looking for when you need it.  Labeling all of your bins and hooks makes it easy to put things back where they belong. Our preference is metal shelving with wheels: sturdy and functional. It makes entering these spaces pleasant, it's worth the effort." –Anna Sicalides, Your Organizing Consultants
"Keep a seasonal maintenance list of everything in your home. For example, in the spring wash your deck and seal it if the manufacturer suggests it. Keep a list with dates of when you sealed it. You will be able to show possible home buyers how well you took care of your deck." –Vickie Dellaquila, Organization Rules
8. Take care of the exterior of your home
"The best home maintenance tips are not over the top, they are simple ones that keep your home running and looking its best. Clean your gutters, make sure if you have a sprinkler system that the heads never spray on your home, wash your home every year and repaint every 4-5 years depending on your area of the country. Stay on top of these maintenance items so that when you get ready to sell your home, you don't have to discount your price for all of the deferred maintenance." –John Rogers, John Rogers Renovations 
9. Service all systems
It is best if you service all systems in the home. This is a great way to show any potential buyers that you've taken good care of your home. It can be a simple home improvement that can add value to your home. If you have any appliances or systems that are more than 10 years old consider replacing them with newer better functioning ones.
"Looking to reduce utility cost; maximize energy efficiency and improve the performance of your HVAC system, we encourage homeowners to increase their attic insulation. Depending on the age of your home the guidelines for maximum energy efficiency could change from what the builder provided and overtime blown insulation can compact. Additional attic insulation can range from a straightforward DIY project with Batt Insulation to professionally installed Spray Foam Insulation. " –Homework Remodels